Getting a comprehensive overview of an app is extremely difficult. Communicating a detailed app review to multiple members of a team has proven nearly impossible. Eliminate these problems through visual competitive reporting and analysis. Scroll down to learn more.
Learn how you can customize the reports to fit your teams exact needs.
Access All Reporting Options
During this exclusive live demo you will discover...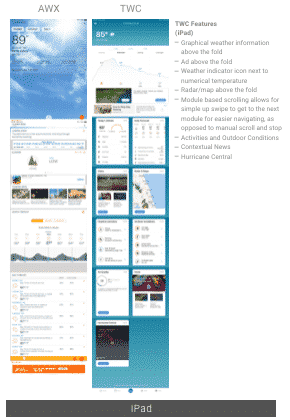 View the entire full scroll of your competitor's app compared to you own app side-by-side. Very detailed expert analysis.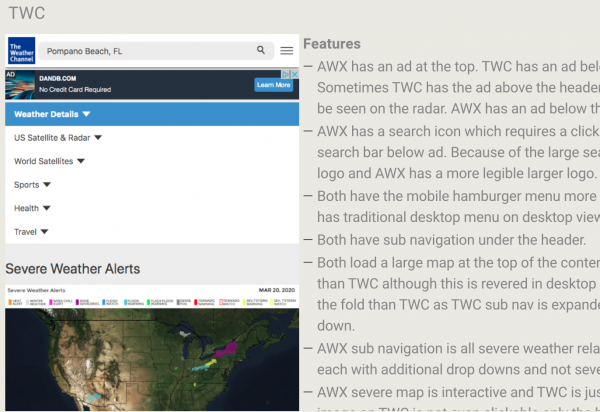 Compare features, layout and functionality. Comprehensive written analysis for UX designers and development teams.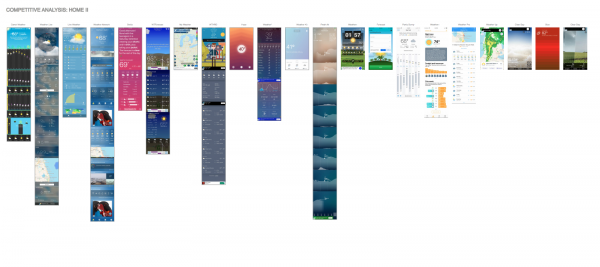 Overview multiple competitors or fine tune a single competitor deep dive one on one. Choose individual platform review, cross-platform comparisons or both. Select as many competitors as you like.
Types & Features
Customizable Visual Reporting
A Bit More About Our Approach
We provide UX, Design and Development teams a more iterative and comprehensive approach to finding and using all available assets they need. Discover, model, collaborate and share visual analysis that create results and drive action for business stakeholders.
DISCOVER THE KEY TO
APP UX, Design & Development Excellence
See what some of our loyal customers have to say about our company. We take great pride in ensuring the highest standards of customer satisfaction.
Brian Baker, President of Design, AccuWeather
These reports have been crucial to our UX team, design team and our development teams for the last 2.5 years. I can't imagine how we ever managed without them. The executive and sales teams also use them often. They have become quite popular company wide.
Mike Boudet, CEO, Sword & Scale
Apps Reporting was very influential for our most recent App Store release. Keeping tabs on our competitors changes is important to understanding the market and how we influence and cause change in the marketplace. We will continue to use Apps Reporting custom reports for ASO and are looking for new ways to improve through their AWESOME reporting solutions.
Brennan Brooks, CMO, Luther Automotive Group
We manage 55 dealer websites and with so many mission critical tools and options for connecting users with our CRM systems, these reports keep our web site systems consistent and optimal for lead generation. We also use the competitive analysis to stay up to date with our competitor features.
Tim Campbell, CEO, Blue Million
Managing enterprise level websites requires competitive analysis. Apps Reporting is the only company we have found producing custom reports to our exact needs. For every web project we use the multi-app overview reports and for every mobile app developed we use the deep dive competitive analysis per competitor. These reports are most used to share with clients, design and development teams.